Telegram marketing for online business growth : Internet marketing does not always apply to Google search engine results pages (SERPs). But we are always looking for effective channels and tools through which we can expand our online business. Today, social networks are very popular and attract more and more targeted users. So when you run an ad campaign, it's no surprise that you post it on your own social media. But because of the many posts and ads that aim to increase brand awareness and direct them to the website, it may be a bit difficult to compete in this area. However, some people try to buy channels with a large number of members to make their work easier. They even use messengers that are faster growing and easier to use than social media. Telegram can be considered the largest messenger in the world, which is rapidly developing and constantly updating.
How does a messenger make money?
In this article, I am going to talk about telegram marketing, a comprehensive marketing process that has proven to be effective. These messengers are designed to make it easier to reach your target audience, share content, and launch advertising campaigns. Telegram is one of the toughest competitors for WhatsApp today. One of the features of Telegram is that messages are encrypted and have high security. This has increased the popularity of this program.
Businesses often use messengers to send a text, image, or video that is both cheaper than texting and calling, and creates a greater sense of belonging to a specific audience. Telegram offers its users to create channels instead of sending separate messages to each of their audiences. Today, we even see that many family channels have been created among people so that they can easily communicate with each other.
Benefits of Telegram Marketing
Many businesses today use messengers to communicate with their customers, place orders and answer their questions. One of the benefits of telegram marketing is that you do not need to have knowledge and expertise. You can easily mechanize everything using Telegram robots so that they can do everything. Telegram bots can not only provide users with information about specific questions, but also receive, send and process images and videos.
The opportunities and benefits offered by Telegram are very wide and we will mention a few examples:
Fast delivery of messages
Existence of timer feature
Data security
Online order registration
online support
completely free
Processing customer feedback
Communication and team coordination
Updated information
Product and service promotion
Drive traffic to the website
Increase brand awareness
Creating payment channels for customers
And other benefits, in addition, if you want to use the Telegram channel as a source of information about your brand and product services, these messengers perform the functions of many of the other tools mentioned below:
Newsletters
Discount channel
Collect feedback
Event Marketing Channel
Operational services and support
Friendly chat with customers on a product related topic
Channel about sharing product news, awards and updates
You should know that no advertisements are made in Telegram and will not be displayed. It is the policy of the creators of Telegram that attracted a large audience or even other users of messengers turned to Telegram. This indicates that a more active audience is present in these messengers.
Creating a corporate and business channel
So you can use Telegram to send messages, share content and launch an advertising channel. But if you want to grow your business through telegram marketing, you need to know how to engage your customers. Now to get started, do the following to build a channel:
Build a channel
Private or make the channel public
Add your audience to the channel
Your channel is now ready. Now we want to talk about how to grow in Telegram. That you should use compelling content for your channel. The best option for businesses is to start a business or corporate channel. This way you can share the messages you receive from all your subscribers with all of them. Put an unlimited number of posts on your channel.
Or even if you do not have enough time, choose one or more people for the channel admin to be able to manage the channel, you can even assign tasks for each admin, for example, one person just posts, one person answers questions and even By performing their duties, their own name will be entered.
Another way you can grow your channel is to buy fake members or buy real members for your channel or to buy targeted members to grow your group which can be very helpful in growing the group and bring your business a good income.This is one way of telegram marketing.
As you can see, if you plan to direct your Telegram channel, you will become a valuable and targeted marketing channel. When you become popular, customers and audiences can receive a notification or notification on their mobile phone by posting your post on the channel and be notified of your post faster. This makes it easier for people to access information.
Private channel vs. public channel
Of course, when you want to create a channel, you immediately determine whether it is personal or public. The difference is that when someone wants to enter your private channel, they have to get permission from the channel manager. This will allow you to add anyone you like to the channel. Or even if you are planning to receive your special offers from a limited number of audiences that you have designated, this is a good solution for you.
Telegram robot suitable for marketing through Telegram
At this point you need an expert and programmer who can set up your channel robot. In the end, you will find that your business is completely different from others, and you will surely be satisfied with this work. The Telegram robot enriches your channel from any answers to questions and information, and provides you with a Telegram account but is managed by the Telegram software itself, not someone else.
The Telegram robot offers a number of unique options:
Training
Playing
Web Search
planning
Radio and television broadcasting network
Reminder
Connect with other users
Integration with other services
So by implementing such robots in your channel, you reduce the possibility of any human error and hire additional marketers. You can also see other channels that use the robot and design them based on your taste and mental patterns.
Telegram stickers
Another way to differentiate your Telegram channel is to create a collection of Telegram stickers from your own brand. This increases brand awareness, and when your customers save your stickers, they can share them with others via personal messages or use them on other channels.
It can be said that this work is a powerful magic to strengthen marketing campaigns through telegrams that designers, artists and people in general are interested in this work. It is safe to say that stickers are very popular in Telegram, and users are constantly using and enjoying them to express their feelings.
You can use a set of stickers, depending on the goals you pursue, as an element in promoting new products or telegram contests. Just go to @stickers and there the Telegram robot will teach you all the steps of making a sticker.
Or if you decide to make your own stickers, consider the following:
The size of the images for the stickers must be a maximum of 512 KB.
Photos must be in PNG format.
Images should be framed and shaded in white.
Images can be uploaded to both PCs and mobile phones.
If there is a problem in making the sticker, the telegram robot will tell you.
Use the appropriate profile picture
Well, it is a definite fact that companies are working to increase brand awareness in Telegram, and if you ask them how to market their business on Instagram, they will mention their logo in the profile picture as their first advantage.
Telegram works the same way. Your channel should be easily identified among all the channels that the audience saved in their telegram. So use your company logo for your channel profile to help your customers get to know you easily.
There may even be thousands of channels similar to your brand that are easy to identify by using a profile picture. Your company logo is a way to describe your channel and that you must use your channel description and briefly describe your activities.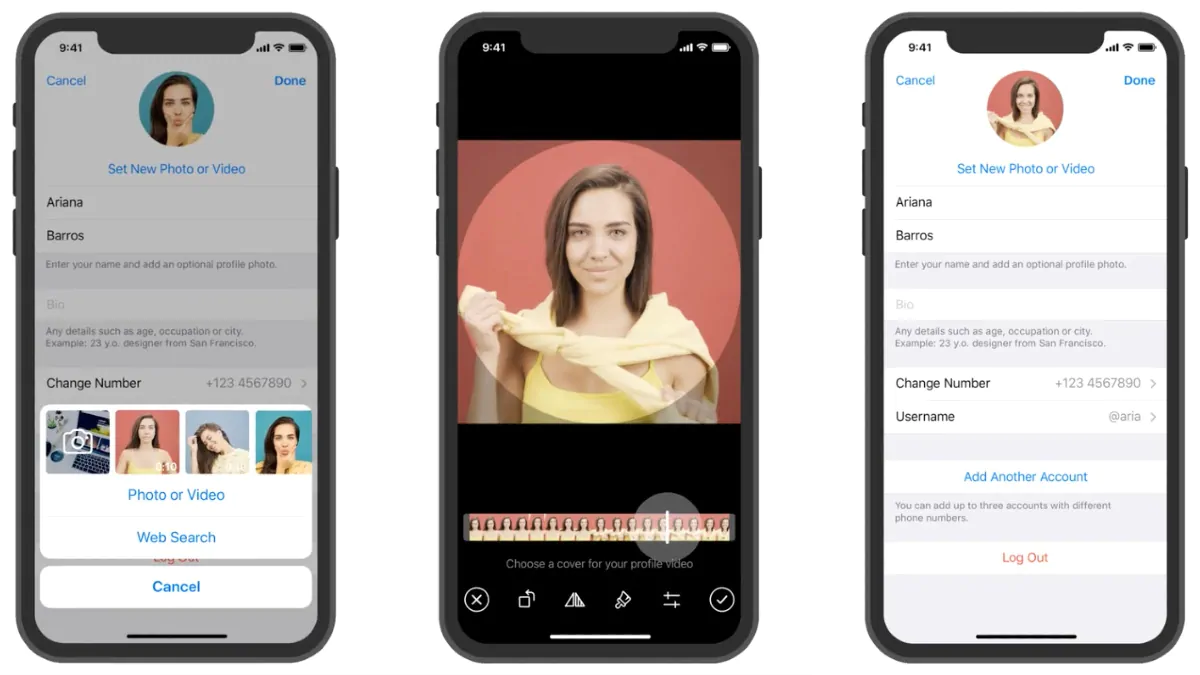 Choose a theme suitable for the channel
Choosing a topic that appeals to users is a good way to organically engage your target audience. All your messages and conversations on the channel should be relevant to your topic, such as discounts, special offers, or user questions about your product or service.
Also, be constantly reporting on the quality of products and services from your loyal customers. They may have ideas for improving your business.
And other facilities
When we talk about advertising campaigns that aim to sell more, increase brand awareness, increase website traffic or improve customer service, we need to identify all the benefits of a program and make good use of its potential. Telegram has other possibilities for you.
That Telegram does not need your mobile phone memory for a world of incoming messages unless you want to download or download them.
In addition, Telegram does not belong to any of the social network mafias such as Facebook, and the motto of the creators of Telegram is "this is not a program for sale." The makers of Telegram reshape its design, function, and policy to suit the needs of its users
Telegram is a non-profit program whose main purpose is to give people access to the most useful messaging service and not to use advertising elements such as promote. Online stores that are particularly interested in payment gateways are currently launching in Brazil and Russia, which will allow users to transfer money. Telegram is so confident about the security of this work that it is willing to reward $ 200,000 to those who hack payment gateways.